Student Life
Student Housing
While CF does not have on-campus dorms, there are many affordable housing options near each campus, and the Ocala Campus has CF-affiliated housing nearby through College Square apartments.
College Square apartments are owned by CF Foundation and managed by a local management company.
College Square apartments are conveniently located adjacent to the College of Central Florida Ocala Campus at S.W. 20th Street and S.W. 31st Avenue. Students can easily walk to classes and college facilities. Each spacious, fully furnished apartment provides four students with a private bedroom and a shared bathroom, living area, kitchen and dining area.
College Square combines the best features of apartment living with on-campus convenience and economy, providing a "home away from home" atmosphere. College Square apartments are a smoke-free facility.
Office hours are Monday-Friday: 8 a.m.-5 p.m. For inquiries, call 352-237-3334 or email collegesquare@cf.edu.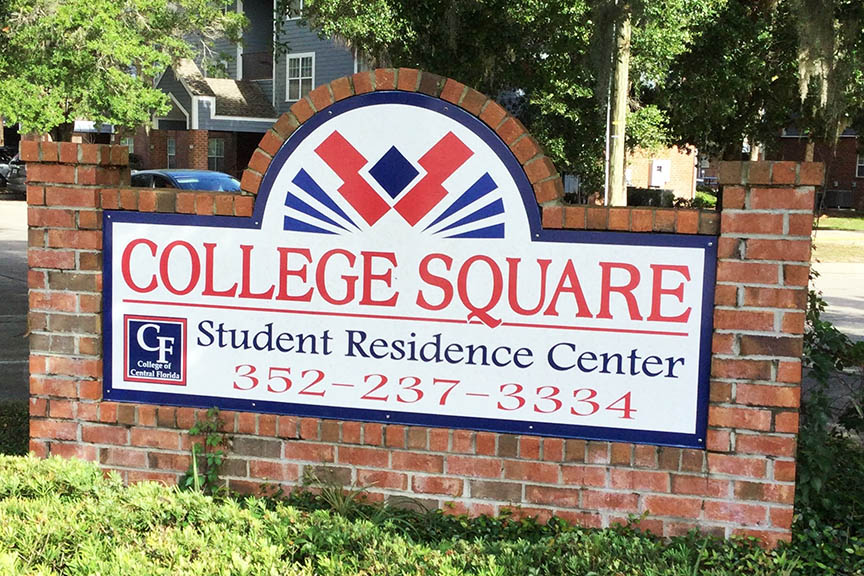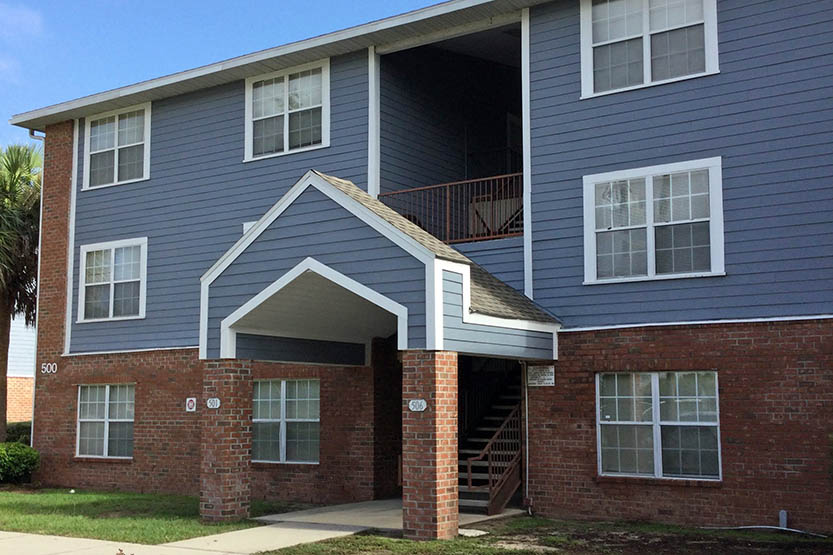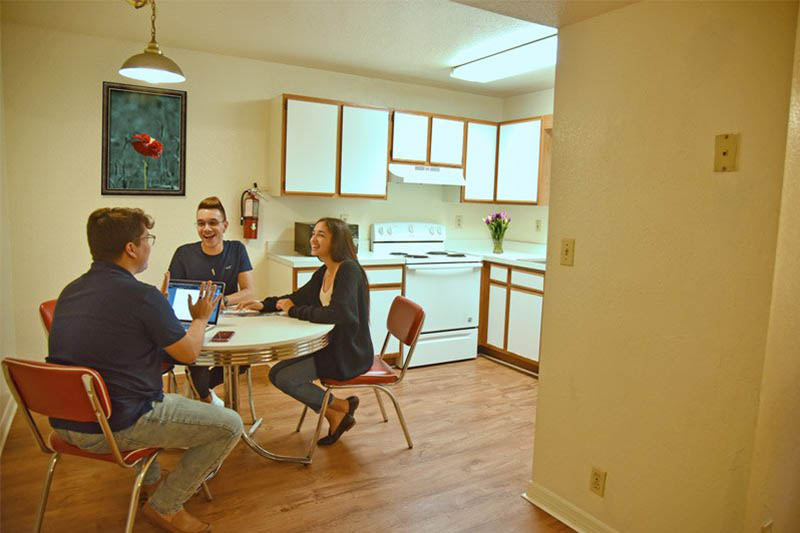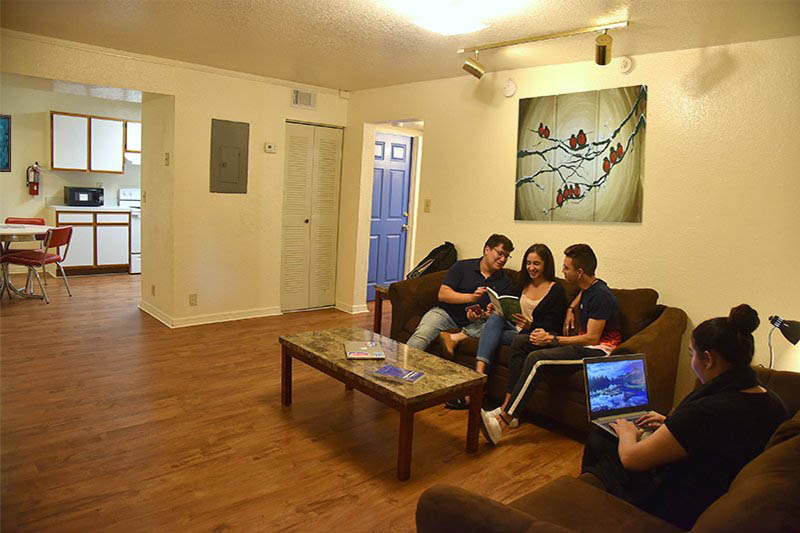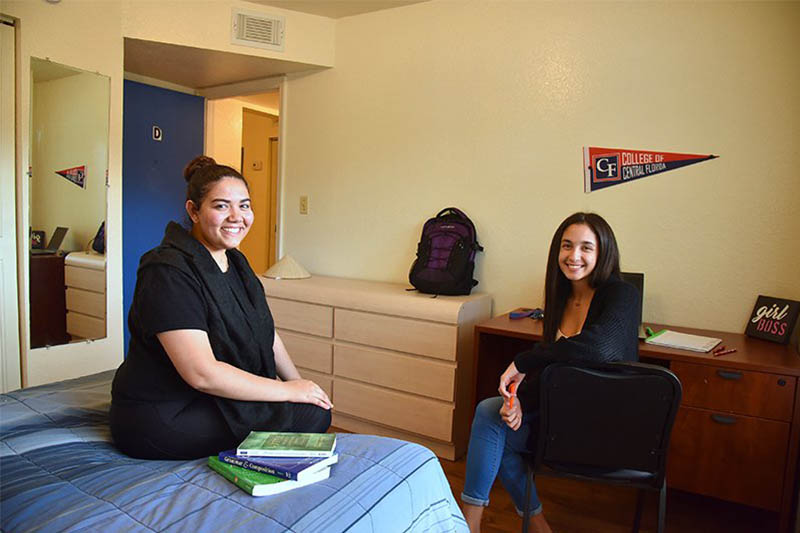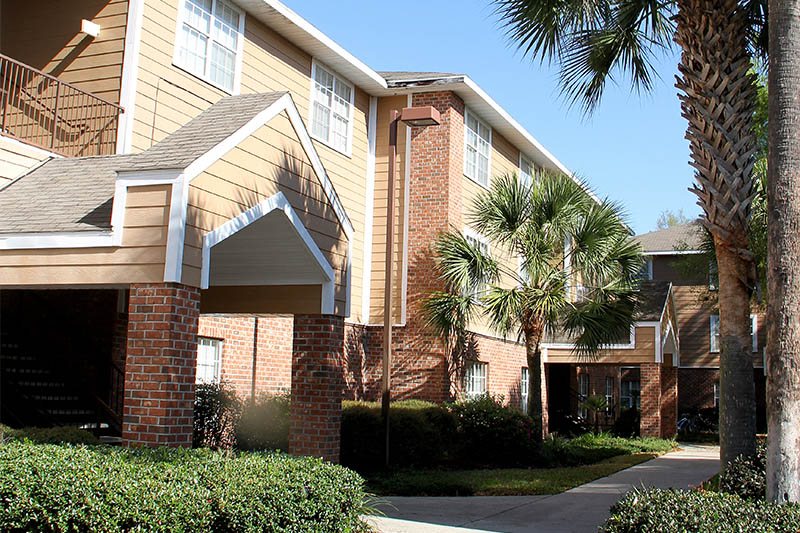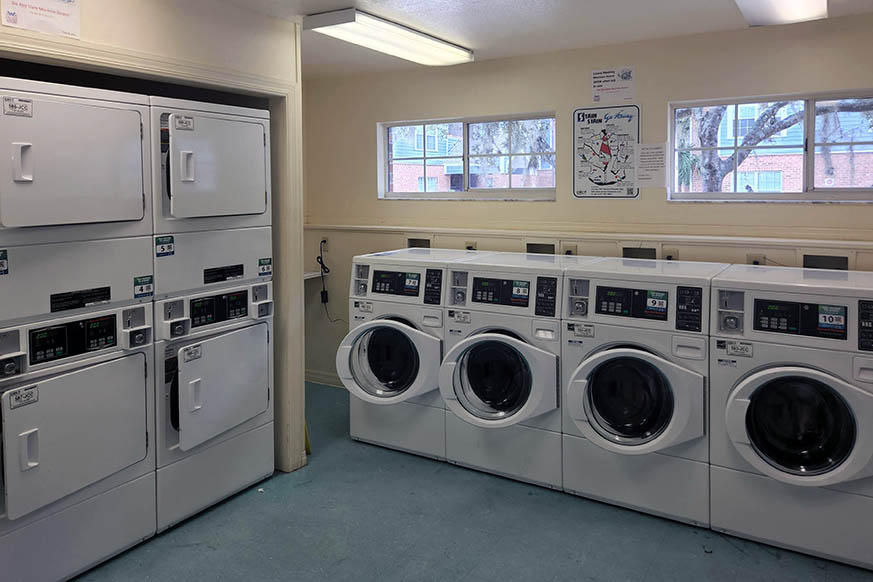 Amenities
Community Amenities:
Swimming pool
Free Wi-Fi connection in Club House
Basketball court
Computer lab
Volleyball court
TV and lounge area
Ping-pong tables
Mailbox, photocopy and fax services
Access to college tennis court
Fee-based laundry center (washers and dryers)
Access to college handball court
Car wash area
On-site apartment management personnel
Apartment Amenities:
Adjacent to CF Ocala Campus
Air conditioning and heating systems
Bedroom with full size bed, dresser, nightstand, desk with chair, closet, telephone and cable hook-ups
Fully furnished common areas:

Dining area with dining table and four chairs
Kitchen with range, microwave, refrigerator with icemaker, dishwasher with garbage disposal
Living room with two sofas, two end tables and a coffee table
Safety Features:
Deadbolt locks
Entry door security viewfinder
Fire extinguishers
Monitored fire alarms
Separate bedroom keys
Well-lighted grounds
Forms
Completed forms can be emailed to collegesquare@cf.edu, faxed to 352-237-8868 or mailed to College Square Apts. 1994 SW 31st Ave. Ocala, Fl 34474. Rent reduction forms are accepted until the end of the C-term drop period for the spring and fall.
FAQs
How big are the apartments?
Each apartment has four spacious bedrooms with a study area; two bathrooms, a kitchen with dining area and a living room.
How are roommates matched?
Roommates are selected from the resident survey that is included with your application packet. However, if you have a preference for a specific roommate, you may request that person. We cannot always accommodate everyone's preference, but we try.
Where is the nearest bus route?
Very close! There is a bus stop on the corner of the street in front of the apartment building and another bus stop on the CF Ocala Campus.
Are there meal plans available for students to purchase?
There are no meal plans that students can purchase. Students generally cook at their apartment or eat out at one of the many restaurants in the area. CF also has a Patriot Café where students are able to purchase breakfast and lunch Monday-Friday.
How much is the rent each month?
It depends on the type of lease you sign.
12-month lease, rent is $455* USD per month.
10-month lease, rent is $475* USD per month.
Month to month lease, rent is $500* USD per month.
* Rates are subject to change.
How much is the deposit for an apartment?
It depends on the type of lease you sign.
12-month lease requires a deposit of $455* USD.
10-month lease requires a deposit of $475* USD.
Month to month lease requires a deposit of $500* USD.
* Rates are subject to change.
Are there other fees to move in?
Yes, there is a $25 USD application fee, the first month's rent and a nonrefundable key deposit of $35 USD.
What is the total amount that I need to move into my apartment?
After you have paid the application fee of $25, you MUST pay before moving into your apartment the first month's rent, key deposit and the apartment deposit:
For a 12-month lease the total amount you would pay when you move in is $970 USD.
For a 10-month lease the total amount you would pay when you move in is $1,010 USD.
For a month to month lease the total amount you would pay when you move in is $1,060 USD.
* Rates are subject to change.
What payment types are accepted for these fees?
Money order or cashier's check made out to College Square Apartments. College Square does not accept cash. You can also pay with credit card or E-check through our company portal.
When and how do I pay rent after I move in? Is it possible to pay for an entire semester/year all at once?
Rent is due on the first day of the month. Once you move in you can then pay by personal check, money order, cashier's check or on our company portal, which we will send you a link after you move in.
What is included in the rent?
Water, sewer, electric service, trash service and pest control. Cable and internet are the responsibility of each tenant if they choose to have services installed.
Are there specific dates/times for check in?
Student must arrive before 5:00p.m. Monday-Friday in order to move in day of arrival.
College Square is also closed on major holidays. Please see our Important Dates calendar below for days that we are closed due to holidays. If the student arrives after this time or on a Saturday/Sunday, the student must either contact College Square to complete the 'late check-in" requirements OR stay at a local hotel at their own expense until the office opens.
For those interested in the late check-in requirements, please contact College Square directly at collegesquare@cf.edu.
Important Dates
April 15th
Deadline for international student moving in for summer semester
July 4th
Office closed
July 15th
Deadline for international and paid sport students dedicated rooms
New Years Day
Office closed
Memorial Day
Office closed
Labor Day
Office closed
Thanksgiving
Office closed
Friday after Thanksgiving
Office closed
Christmas Eve*
Closed unless date falls on a Thursday, in which case the office is closed the day after Christmas.
Christmas
Office closed