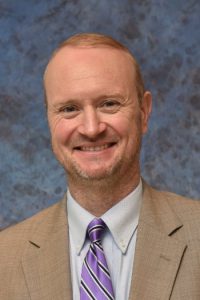 The Appleton Museum of Art, College of Central Florida, proudly announces Jason Steuber as the museum's new director.
Steuber has more than 20 years of curatorial and project management experience with American Alliance of Museums-accredited museums. He is an award-winning Asian Art historian and has been an art museum leader and financial decision maker for the past 10 years, serving as the Cofrin Curator of Asian Art Endowed Chair at the Samuel P. Harn Museum at the University of Florida in Gainesville. Previously he served as the Leverhulme Trust Visiting Fellow at Glasgow University in Scotland and Assistant Curator of Chinese Art at the Nelson-Atkins Museum of Art in Kansas City. He began his work at the Nelson-Atkins Museum of Art as a research assistant and curatorial intern.
"I am honored to become part of the College of Central Florida and Appleton Museum team," said Steuber. "I am well aware of the community's fervor for the arts and appreciation for the museum, and I look forward to cultivating that passion to bring the Appleton to the next level."
Steuber will officially join the Appleton team on Sept. 16.
College of Central Florida President Dr. Jim Henningsen said: "This is an exciting time for the Appleton. We welcome Jason Steuber as the new director and look forward to him applying his experience and ideas to help grow our already-successful museum into even more of a treasure — not only locally, but nationally and internationally.
"We are also thankful for the support of our Legislative delegation members, who played a critical role in the restoration of funding for the Appleton Museum," said Henningsen. "Stable funding will ensure that the museum remains one of our state's greatest cultural assets."
The museum's permanent collections of approximately 18,000 objects include European, American, Asian, African, Contemporary and pre-Columbian art and artifacts, and a series of temporary traveling exhibitions are presented throughout the year. The museum is also building a collection of works of Florida artists which relates directly to the history and cultural heritage of the Central Florida community.
Owned and operated by the College of Central Florida, the Appleton Museum of Art is located at 4333 E. Silver Springs Blvd., Ocala, east of downtown on SR 40 (exit 352 east off I-75 or exit 268 west off I-95). Parking is free. For more information, call the Appleton Museum of Art at 352-291-4455 or visit AppletonMuseum.org.