Ceremony Details
The College of Central Florida's annual commencement will be held on May 9, 2024, at the World Equestrian Center (WEC), Expo Center 1, 1751 N.W. 80th Ave., Ocala, FL 34482. There will be two commencement ceremonies, the first at 10 a.m. for graduates of Baccalaureate degrees, Associate in Science degrees, and certificates. The second ceremony will be at 3 p.m. for Associate in Arts graduates.
For the easiest access, graduates and their guests should use the second entrance going west on State Road 40. Parking is free for those attending CF graduation.
The ceremony will also be livestreamed on the CF YouTube page.
Graduates are expected to return to their seat after walking across the stage and stay for the entire ceremony. All participants deserve to have the same experience throughout the ceremony.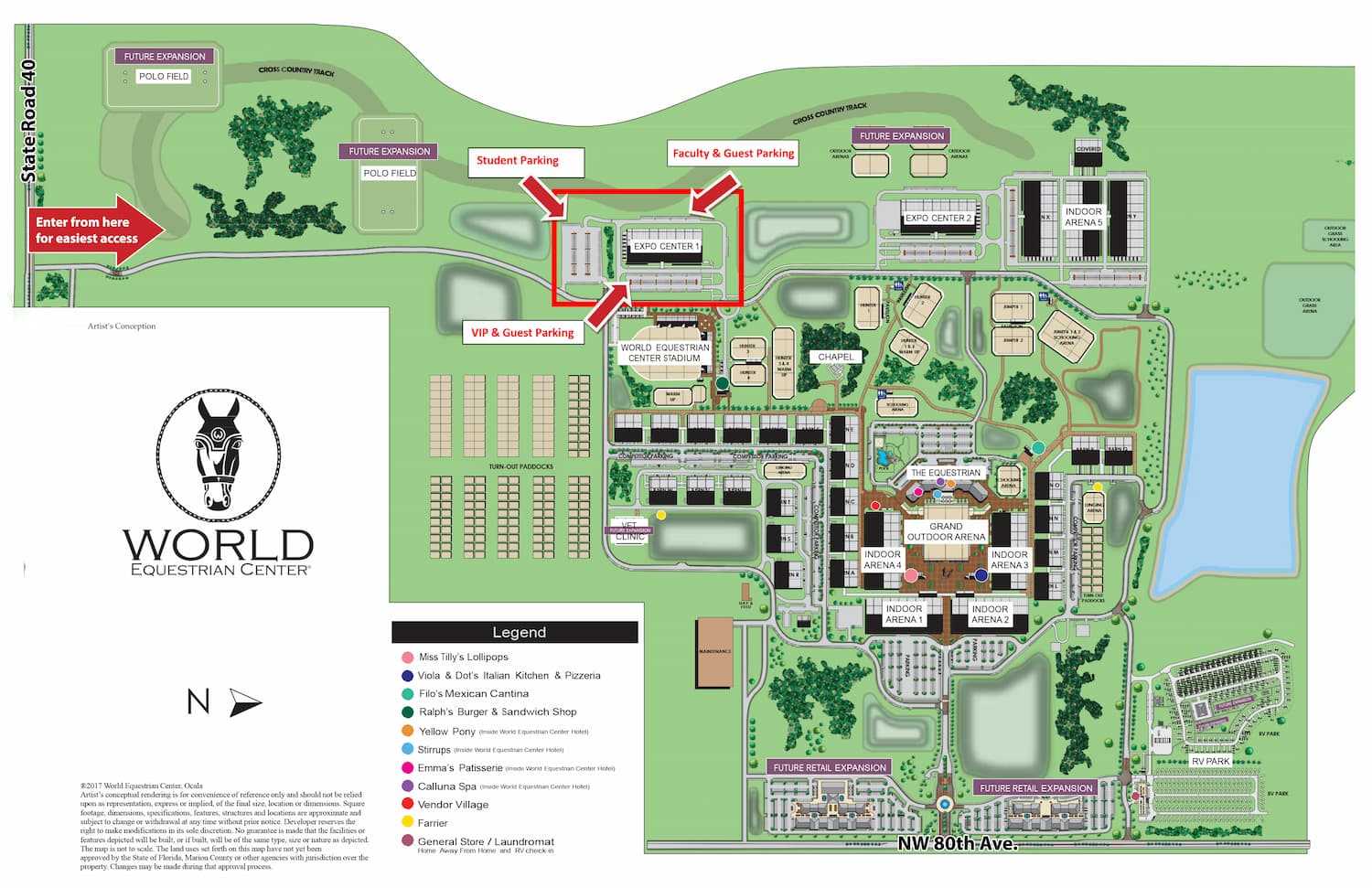 Getting Ready for Commencement
Congratulations on your upcoming graduation from the College of Central Florida. Your application for graduation will be processed immediately following the end of the semester you have or anticipated to graduate from. When processing your application for graduation, we will review the following graduation requirements for your degree or certificate:
Completion of the required number of credits
Final cumulative GPA
All holds have been cleared
Honors designation
NOTE: For purposes of recognition at the graduation ceremony, an Honors designation is based on all grades from all previous semesters. Grades from the current semester may or may not be computed at this time but will be included on your final transcripts.
We encourage you to attend the graduation ceremony. Graduates who wish to participate in the ceremony will need to purchase their caps and gowns. Cap, gown and tassel bundles can be ordered online at https://colleges.herffjones.com/college/_ccf/.
There will be no rehearsal prior to the ceremony. Ceremony check-in begins 90 minutes prior to the start of the ceremony but please arrive at The World Equestrian Center (WEC) no later than one hour prior so that your guests have time to find a seat and you can be assembled and ready to march in your cap and gown. When you arrive, proceed to Expo Center 1 where you will check in for the ceremony and be given a card with your name printed on it. Keep this with you and hand it to the narrator when you approach the stage. Your name will be announced as you walk across the stage. We do not line up in any alphabetical or ranked order. If you will need any accommodations at the ceremony, please contact Cindy Pfriender at 352-873-5800, ext. 1580. Graduates, we respectfully ask that you return to your seat after walking across the stage, and stay for the entire ceremony.
GradImages® will be photographing all graduates at the upcoming graduation ceremony. You can register now by visiting their website, www.gradimages.com/PREREGISTRATION. This will make viewing and ordering your photos after the event easy – your loved ones will thank you! Please clearly print your email address on the back of your name card that you are given at the ceremony. If you have any questions about your photographs, you may call 800-261-2576 or check online at www.gradimages.com.
Your official diploma will be sent within six to eight weeks, to the current address on file. If you do not meet all the graduation requirements, an email will be sent explaining missing requirements.
Should you have questions regarding the graduation ceremony, please contact Donna Jernigan at 352-854-2322, extension 1307. For inquiries concerning your graduation requirements, contact your advisor, extension 1489. Again, congratulations on your upcoming graduation! We look forward to seeing you at the ceremony.
Official Degree Conferment
Certification of degrees/certificates is completed once the semester is finalized and grades are reported. Grades are due on the Monday after the semester ends and the certification process immediately follows. Diplomas/certificate will be mailed out within six to eight weeks. Graduates should confirm or update their permanent address in the MyCF student portal. Transcripts that show your credential has been awarded are available approximately 1-2 weeks after grades are reported. Transcripts can be ordered at this link.
Summer and Fall Graduates
Students eligible for summer and fall graduation may choose to walk in the following spring ceremony; CF does not conduct summer or fall graduation ceremonies. For more information about graduation and commencement call 352-873-5801 and select Enrollment Services, or email graduation@cf.edu.