Your future starts here
Admissions
Ready to achieve your academic goals? CF's admissions team is ready to help guide you in your college journey, from start to finish. Find out more about the admissions process below.
Why CF?
Thousands of students choose to earn their degrees at CF each semester
Ready to join them? Affordable tuition, quality instruction, small class sizes and excellent transfer partnerships are just a few of the many reasons why CF is the right choice for you.
Steps to Enrollment
We've broken down CF's admissions process into five steps to help get you enrolled as quickly and easily as possible.
Fill out the CF application
Pay the $30 application fee
Submit needed documents such as transcripts or proof of residency
Complete orientation
Register for classes
Disability Services
Admissions Assistance
We encourage students with disabilities to connect with the Disability Services Department if you need assistance with completing your admissions application, financial aid application or other necessary documents for the admissions process.
Student types
Find your path
No path to college is exactly the same. Get specific information about the admissions process for your student type.
First Time in College
CF is a great way to start your college experience if this is the first time you're taking college classes since high school graduation. At CF, you can complete an Associate in Arts (to prepare you for a bachelor's program) or Associate in Science or certificate program (perfect if you're wanting to jump straight into the workforce). As a first time in college student, you'll follow the standard admissions process.
Returning
Coming back to take more classes at the College of Central? We're glad to have you rejoin the CF family! If it's been more than a year since you were last enrolled or applied, you'll need to submit a new application.
Dual Enrollment
If you're a student currently enrolled in high school looking to complete college courses, CF offers plenty of options. Your high school counselor will help ensure you meet the requirements for this program.
Transfer
You may not have started at CF, but you can certainly finish here! Find out about the transfer process for students who are currently attending or have attended another college or university other than CF.
Transient
You can still take classes at CF even if you're enrolled at another college or university! The process for applying as a transient student depends on whether or not you're attending a Florida public college or university. Click below to learn more.
Bachelor's
If you have an associate degree or higher and want to take the next step, you can earn your bachelor's degree at CF! CF is a 2+2 school, which means you need to have an A.A. or A.S. degree before pursuing a bachelor's degree.
If you have earned an associate degree at CF, you will still need to apply for admissions and pay the application fee as a bachelor's student.
International
Students come from all over the world to attend CF! As an international student, you'll need to be seeking to apply or maintain an F1 student visa to study an academic program here.The F-1 Visa will allow you to enter the United States as a full-time student at CF.
Veterans
CF is a designated Military Friendly® School, with resources to assist active duty military, veterans and their families in getting the best education possible. If you wish to use your veterans benefits to pay for tuition and housing, our Veterans Services team can guide you through the process.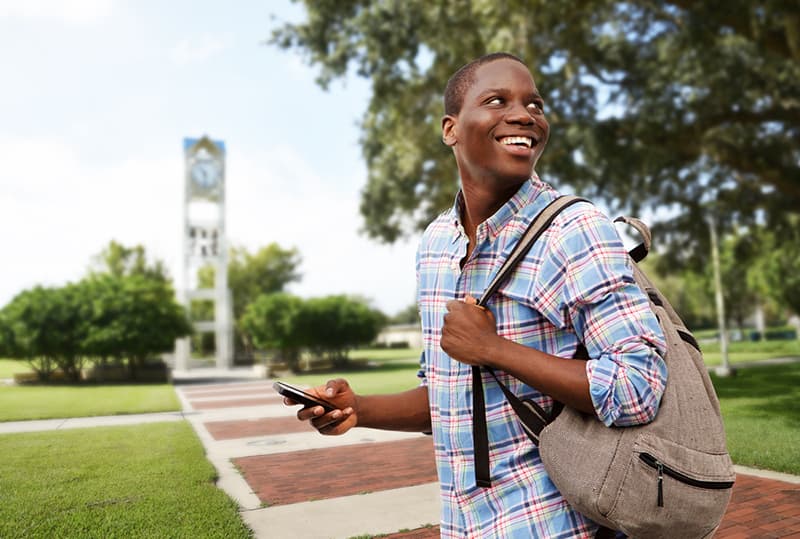 Classes start six times a year
Don't miss the application window for your chosen semester! The next semester starts in…
Next steps
I've gotten my CF acceptance letter – now what?
Welcome to the CF family! Now that you've enrolled at CF, it's time to take advantage of all the amenities and services that CF has to offer.
Let's talk
Have questions or need assistance with the admissions process? We're here to help! Call, email or visit one of our campus locations.