Arts and Culture
International Film Series
The CF Ira Holmes International Film Series educates and inspires through films that are culturally, historically and artistically important. We hope you will join us as we explore and enjoy our world though great cinema.
The College of Central Florida's Ira Holmes International Film Series is excited to present this year's season of films. Films this season will hail from countries inluding Butan, France, India, Japan, North Macedonia and more.
All films will be shown Tuesdays at 2 p.m. at the Appleton Museum of Art, 4333 E. Silver Springs Blvd., Ocala, and at 7 p.m. at the College of Central Florida, 3001 S.W. College Road, Building 8, Room 110, unless otherwise specified. Films at the Ocala Campus are free and open to the public. Films at the Appleton are free to all museum and film series members; nonmembers pay museum admission. Films may contain mature content.
Upcoming Screenings and Film Talks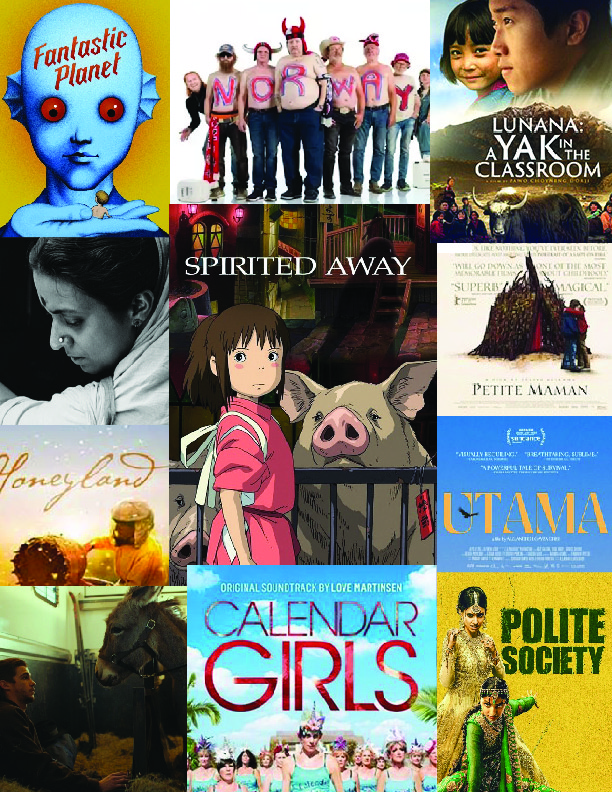 Full Film List
Sept. 12: "EO", Poland, 2022
Sept. 26: "Long Flat Balls: Broken Promises", Norway, 2022
Oct. 10: "Utama", Bolivia/Uruguay, 2022
Oct. 24: Special event – Meet filmmaker John de Graaff at the Marion Theatre at 7 p.m. introducing his latest documentary "Stewart Udall and the Politics of Beauty" with an Q&A directly after the screening.
Oct. 31: "Fantastic Planet", France, 1973
Nov. 14: "Honeyland", North Macedonia, 2019
Jan. 30: "Pather Panchali", India, 1955
Feb. 4: Special event – "Spirited Away", Japan, 2002 – 2 p.m. at Marion Theatre
Feb. 13: "Petite Maman", France, 2021
Feb. 27: "Calendar Girls", Sweden/USA, 2022
March. 2: Special event – Meet the Calendar Girls and watch them perform at 11 a.m. and noon at the Appleton Museum of Art.
March 26: "Polite Society", UK, 2023
April 9: "Lunana: A Yak in the Classroom", Butan, 2019
Support the Film Series by Becoming a Member
Contributions from donors help make the CF International Film Series possible. Series membership includes free entry to the Appleton Museum day of film screenings. If you would like to donate, please select Film Series from this form and become a Film Series Member now!
Membership Levels
Student: $5 (must be an active, degree-seeking student. Student number required)
Individual: $15
Dual: $25
Stars: $50
Patron: $100
Lifetime: $1,000
About the Founder
Professor Ira Holmes is the founder of the CF International Film Series and served as its director for more than 30 years. Since 1962, Professor Holmes has taught Humanities and Social Sciences courses, serving as as department chair and then division dean from 1978 to 1998. He established the first Studies Abroad course at the college and led more than 25 study tours to Europe.
Holmes' interests are film, theater, art, travel and historic preservation and he has served on the Ocala Historic Preservation Advisory Board since its founding in 1984. And above all, Professor Holmes works at being a good father and grandad to two children (Kevin and Amanda) and three grandchildren (Ansley, Kele and Irie).