CF offers college credit courses toward becoming an EMS, EMT or paramedic, as well as continuing education EMS courses. All of the EMT and Paramedic course work can be applied toward a two-year degree in Emergency Medical Services.
The College of Central Florida's EMS program is accredited by the Committee on Accreditation of Educational Programs for Emergency Medical Services Professions. CoAEMSP is the only accrediting body for EMS programs recognized by the American Medical Association, and by NREMT, the agency that does national testing for EMT and Paramedic Certification. While graduates of non-accredited schools had been allowed to take the national certification exam, this practice ended in 2013. Only students from accredited schools are allowed to sit for these exams. CF is the only CoAEMSP accredited program in the Marion, Citrus, Levy area.
If you are a transfer student, please review our Transfer of Credits policy.
Explore Degrees and Certificates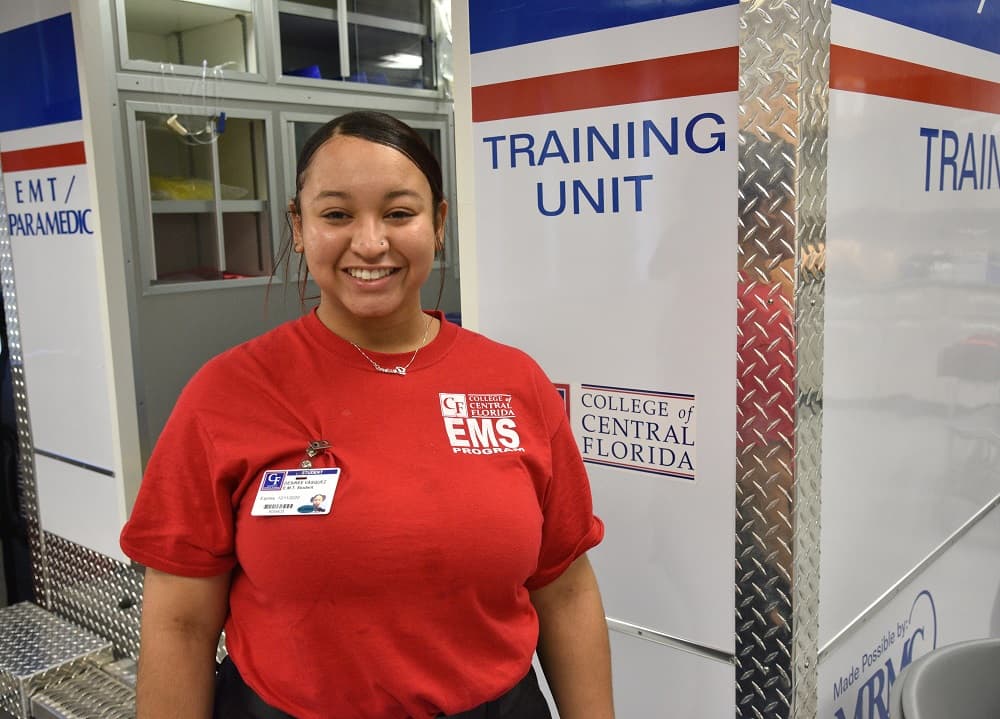 New Noncredit Program
Critical Care Transport
Designed for paramedics, registered nurses and other health care professionals, Critical Care Transport is a hospital-based, interfacility transport program designed to meet the needs of critically ill patients during transit from one medical facility to another both in the United States and abroad.
CF is pleased to have launched this brand new noncredit program in 2021. This is a limited access program open for applications now.
We work to accommodate our students.
While we believe the training should be tough, we don't believe it should be tough to get to. Our paramedic program is conducted on a flexible schedule that allows students who are currently working in the emergency medical field to come to class on days that accommodate their schedules. For EMTs we offer day and night classes in three different locations throughout Levy, Citrus and Marion counties.
We have our priorities right.
CF's primary motivation is producing exceptional EMTs and paramedics to serve in the community that we all share. Our pass rates on licensure exams are consistently among the highest in the state. While this is an important step, our primary focus is to make sure that when you leave CF, you have the skills and understanding necessary to deliver the highest quality pre-hospital emergency care.
We have the people and equipment needed to do the job.
CF's EMS program employs carefully chosen, experienced instructors who are dedicated to helping you become the best pre-hospital emergency medical care provider you can be. The program has over $600,000 invested in high fidelity medical simulators and monitoring equipment. We use that equipment to provide our students with realistic training experiences knowing that the more you sweat in training, the less you'll sweat when there are real lives at stake.
We're the best.
Our students consistently perform above the state average on certification tests. Employers have demonstrated a preference for our students because they are better prepared to meet the emergency medical needs of the community.
CF's EMS program was the recipient of the 2011 EMS Educator of the Year Award from the State of Florida Department of Health, Bureau of Emergency Medical Services.
Learn More
Receive an email with details about the EMS program.