About CF
Awards & Recognition
The College of Central Florida is consistently recognized nationally for its high-quality programs, affordability and accessibility.
High Quality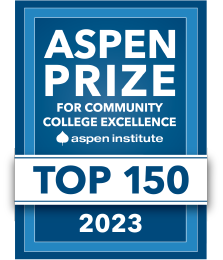 CF is ranked among the top 150 colleges in the nation for quality by the Aspen Institute College Excellence program. Rankings are based on performance in student outcomes, including graduation rates, improvement in student success and equitable student success.
For the Aspen Prize, in each two-year cycle, a jury of national experts selects 10 finalist institutions, and, ultimately, one winner of the prestigious award. CF was also recognized and deemed eligible for the $1 million prize in 2011, 2013, 2017, 2021 and 2023.
CF is accredited by the Southern Association of Colleges and Schools Commission on Colleges.
CF's Wilton Simpson Citrus Campus was ranked the 1# nursing program in Florida by RegisteredNursing.Org. (2022)
CF ranks in the top 30 Community Colleges in Florida for 2022 by Intelligent.com. Among which, CF was also recognized for Best Scholarships.
In a separate ranking, Intelligent.com ranked CF's Associate in Business Administration Degree Program among the top 20 in the nation for 2022. Among which, CF was also recognized for Best Certificates.
Consistently high first-time pass rates on certification exams.
CF ranks No. 2 in Florida for Best Education and Teaching Associate Degree Programs by FTCEtest.org.
CF ranks No. 6 for Best RN Programs in Florida by RegisteredNursing.org for 2021.
Affordable
More than $1 million in scholarships is available each year.
CF ranks in the top 1% for affordability in the United States, according to the U.S. Department of Education. (2019 report)
Two-thirds of CF graduates leave the college with no student loan debt.
CF offers tutoring, career guidance, job placement assistance, and more services to students free of charge.
CF is less than half the cost of a four-year degree at a state university.
Accessible
Students can choose from a variety of class options: day, evening, online and hybrid classes.
CF has six locations throughout Marion, Citrus and Levy counties.
Pathways and Partnerships
Students can choose from 170+ academic pathways that lead to high-skill, high-wage careers.
CF offers a variety of certificate, associate and bachelor's degree options.
CF maintains seamless transfer pathway partnerships with University of Central Florida, University of Florida Online, University of South Florida and Florida A&M University.
Return on Investment
86% of CF graduates are found employed or continuing their education within one year of graduation.