CF Foundation
Distinguished Alumni
The Distinguished Alumni Award is presented to an alumnus/a, who exemplifies the College of Central Florida's tradition of excellence through their personal accomplishments, professional achievements, or humanitarian service. One recipient is selected each year.
CF Distinguished Alumni 2020
Ben Marciano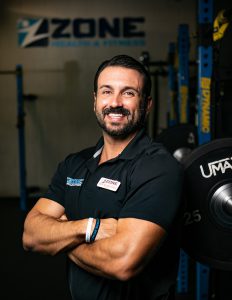 Ben Marciano is passionate about the benefits of health and fitness, and works with the community to address health issues. He served as executive director of the Frank Deluca YMCA for several years, and in 2014 he opened Zone Health and Fitness, which has two locations in Ocala.
"I believe it is our mission to give and help others," said Marciano. "That is why we push so hard, so we can do more."
Marciano and his wife, Danielle, volunteer with several charitable organizations to make Marion County a better place. One of those organizations is Arnette House, which provides emergency shelter, counseling, and crisis intervention to young people and families. Ben and Danielle have mentored several boys, who they consider part of their family. They believe that they get more out of the relationships than the boys.
Marciano said they feel fortunate to be in the position they are today. Since the Zone opened, they have provided $100,000 in support to nonprofits and individuals in the community including the American Heart Association Heart Walk, the United Way and the Centers.
And, of course, Marciano has supported his alma mater. He has been a signature sponsor of the CF Athletics program for many years, and he partners with CF for recruiting events and to hire students.
"We are thrilled to acknowledge Ben for his achievements not only within his industry but also as a CF alumni leader in our community," said Mike Fallon, chair of the CF Alumni committee. "We are pleased to recognize him as our 2020 Distinguished Alum."
Previous CF Distinguished Alumni
May 1996: The Honorable Craig Curry
Aug. 1997: Richard Knight
May 2001: Morrey Deen
Aug. 2001: The Honorable Mary Sue Rich
Dec. 2001: Lewis Dinkins
May 2002: Jim Williams
Aug. 2002: Mary Steddom
Dec. 2002: Jim Huber
May 2003: Roy Abshier
Dec. 2003: Kay Johnson Boyer
Aug. 2004: Bobby James
2005: Lori Hornby
Aug. 2005: Michael Mangan
May 2006: The Honorable Gerald Ergle
Dec. 2006: Judge Hale R. Stancil
Fall 2007: Van McKenzie
Spring 2008: Dean Blinkhorn
Fall 2008: Sandra Himmel
Spring 2009: Clinton Hart
Spring 2010: Dr. Stacey Dickson
Spring 2011: The Honorable Charles Dean
Spring 2012: Gloria James
Spring 2013: George Tomyn
May 2014: Sindy Schneider
May 2015: Sheriff Chris Blair
May 2016: Capt. Shane Ferguson
Dec. 2016: Mike Joyner
May 2017: Judge Carlos E. Mendoza
May 2018: Luther Drummond
May 2019: John and Shirley Rudnianyn
May 2020: Benjamin Marciano