CF Foundation
Distinguished Alumni
The Distinguished Alumni Award is presented to an alumnus/a, who exemplifies the College of Central Florida's tradition of excellence through their personal accomplishments, professional achievements, or humanitarian service. One recipient is selected each year.
CF Distinguished Alumni 2021
Ire Bethea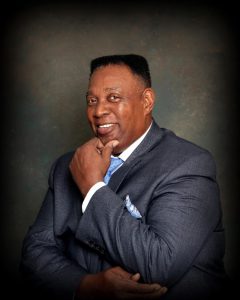 Each year, the College of Central Florida and the CF Alumni Association honors the accomplishments of an outstanding alumni who exemplifies the College of Central Florida's Patriot Pride of achievement, excellence and service to their communities.
This year's recipient is Ire J. Bethea Sr. Bethea retired after a combined 30 years of service with the City of Ocala and the Boys and Girls Club of Marion County and currently represents District 2 on the Ocala City Council. He is a lifelong resident of Ocala and a graduate of Ocala High School, Central Florida Community College (now the College of Central Florida) and St. Leo University.
Bethea's service in the community did not end when the work day ended at 5 p.m. He is credited with volunteering for multiple organizations and committees across the community throughout his career and retirement; many of his volunteer efforts were geared towards helping Marion County's youth.
He is a graduate of Leadership Ocala/Marion Alumni, Class XVII; was inducted into the African American Museum of Marion County in 2015; Past-Polemarch of the Gainesville Alumni Chapter of Kappa Alpha Psi Fraternity, Inc.; received Man of the Year Award in 2006 from the Alumni Chapter, Kappa Alpha Psi Fraternity, Inc.; and serves as a Deacon at New St. John Missionary Baptist Church.
Bethea is Chairman of the Dr. Martin Luther King, Jr. Commemorative Commission and has received many awards including the Racial Harmony & Cultural Awareness "Unsung Hero Award" in 2011, the NAACP's "Service and Uplift to the Community Award" in 2015 and the Rotary "Service Above Self Award" in 2019.
He has been married to Gloria F. Bethea for 29 years and they have seven children.
"It is an honor to recognize Councilman Bethea with our 2021 Distinguished Alumni Award," said Marc Stalvey, CF Alumni Committee Chair. "his entire career has been about service and his work to make Ocala a better place did not end when he went off the job – he represents the best of CF graduates."
Previous CF Distinguished Alumni
May 1996: The Honorable Craig Curry
Aug. 1997: Richard Knight
May 2001: Morrey Deen
Aug. 2001: The Honorable Mary Sue Rich
Dec. 2001: Lewis Dinkins
May 2002: Jim Williams
Aug. 2002: Mary Steddom
Dec. 2002: Jim Huber
May 2003: Roy Abshier
Dec. 2003: Kay Johnson Boyer
Aug. 2004: Bobby James
2005: Lori Hornby
Aug. 2005: Michael Mangan
May 2006: The Honorable Gerald Ergle
Dec. 2006: Judge Hale R. Stancil
Fall 2007: Van McKenzie
Spring 2008: Dean Blinkhorn
Fall 2008: Sandra Himmel
Spring 2009: Clinton Hart
Spring 2010: Dr. Stacey Dickson
Spring 2011: The Honorable Charles Dean
Spring 2012: Gloria James
Spring 2013: George Tomyn
May 2014: Sindy Schneider
May 2015: Sheriff Chris Blair
May 2016: Capt. Shane Ferguson
Dec. 2016: Mike Joyner
May 2017: Judge Carlos E. Mendoza
May 2018: Luther Drummond
May 2019: John and Shirley Rudnianyn
May 2020: Benjamin Marciano