About CF
Service Learning
Experience is not what happens to you; it is what you do with what happens to you. -Aldous Huxley
At the College of Central Florida, we embrace Service Learning, an opportunity to create experiences where students take learning to higher levels of understanding through civic engagement that benefits both the student and our community.
Working together to meet a specific need, students commit to a specified amount of time (typically 10-20 hours) to complete a service project as part of an academic course. Following the experience, they return to the classroom and reflect on their connections made through service to course-specific concepts.
There are many ways for your organization to experience this mutually beneficial process:
Request to partner with CF (email mccammoj@cf.edu)
Identify a project with a set agenda or outcome needed (The options are limited only by your imagination and can be designed for a particular class or a larger group of students)
Organizing and promoting an event
Setting up a resource room
Reaching out to the community through telephone campaigns
Creating websites
Providing a financial literacy class for clients
Providing child care during an event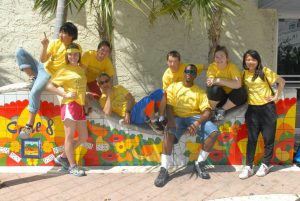 With a wide range of courses and programs of study offered at the College of Central Florida, consider the great resource students are, with their boundless energy and fresh ideas. You can play a critical role in developing the next generation of civic minded leaders! Please send any project ideas and contact information to Julee McCammon, mccammoj@cf.edu.
Faculty and staff, please let us know of your planned Service Learning event by filling out form found here.
Service Learning
A teaching and learning strategy that integrates meaningful community service with instruction and reflection to enrich the learning experience, teach civic responsibility, and strengthen communities.
~Learn and Serve America National Service Learning Clearinghouse 2014