Online Learning
State Authorization Information
The College of Central Florida is a member of the National Council of State Authorization Reciprocity Agreements (NC-SARA), through membership in FL-SARA. We are able to offer distance education to students in the territories of Puerto Rico, the US Virgin Islands, and every state and the District of Columbia, except California.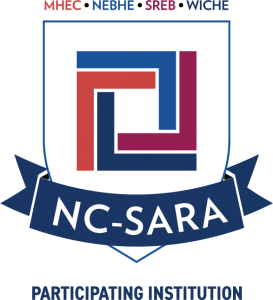 The college has not designed any online degree program or certificate for the purpose of leading to professional license in any state other than Florida. In order to help prospective students, applicants, and current students learn more about possible professional licensure or certification associated with degrees offered at CF, we are evaluating several degrees that may lead to professional licensure or certification. Requirements to pursue licensure or certification vary by state and often require additional criteria, including internships, work experience in the field, and/or passing a state or national exam.
The College of Central Florida has been approved to participate in the National Council for State Authorization Reciprocity Agreements.
The college offers several degrees that are designed to lead to licensure in Florida:
Bachelor of Applied Science in Business and Organizational Management, Accounting Specialization
Associate Degree in Nursing
Bachelor of Science in Education
We offer several degrees in fields of study for which students may wish to seek licensure in certain states. Examples include the following:
Early Childhood Education
Elementary Education
Health Information Technology
Physical Therapy Assisting
Radiography
Surgical Technology
Emergency Medical Services, Paramedic and Emergency Medical Technician
We are in the process of determining licensure status for our various degrees and programs, both online and on campus, but have not yet made any further determinations.
If you are seeking a professional license in another state, it is important that you seek information about the requirements in your chosen state. A good place to start is the US Department of Education. You should NOT assume that one of our programs will qualify you to seek licensure in any state, based on the program title, area of study or any other criteria. Please contact us and we will help you make that determination.  You may reach us at DLHelp@cf.edu. If you apply to complete a program that might be assumed to lead to licensure, from outside of FL, please make sure that we have your correct email address on file. We may be required to contact you to disclose the status of our program in your state.
All student complaints should first follow the college's complaint procedures. If the complaint cannot be resolved through the college's complaint procedures, the student may contact the Division of Florida Colleges for additional information. If neither of these resolves the complaint, distance education students may appeal non-instructional complaints to the Florida State Authorization Reciprocity Agreement Post Secondary Reciprocal Distance Education Coordinating Council. For additional information on the complaint process, please visit the FL-SARA complaint process page.