The Team
The physical therapy profession offers an exciting, flexible, and rewarding career. The role of the physical therapist assistant (PTA) is to deliver physical therapy services under the direction and supervision of a licensed physical therapist (PT). Each individual receiving physical therapy service will receive an evaluation by the PT who will establish a plan of care based on the individual's impairments and functional goals. PTAs deliver many components of physical therapy services, collect data regarding treatment interventions, and work as a team with the PT to help people gain their maximal level of function to improve their quality of life. For more information regarding the roles of the PT and PTA, click here.
The Settings
PTAs have the opportunity to work in various settings to include hospitals, outpatient centers, privately-owned physical therapy practices, schools, inpatient rehabilitation facilities, and home health settings. The patient care population varies, depending upon the setting. In general, PTAs will see clients with orthopedic, neurological, cardiopulmonary, and integumentary injuries and conditions. Physical therapy services are provided during day shifts, in general from 8 a.m. to 5 p.m. New graduates in the region will make approximately $22/hour. Depending on the setting, the median income for the PTA ranges from $48,000/year to $63,000/year, in the southeastern region of the United States. For more specific information regarding PTA salaries, click here.
The Skills
PTAs share an important responsibility in the safe and effective delivery of physical therapy service. In some settings, the PT is not directly on the premise while the PTA delivers care. Therefore, PTAs are required to have the high standard of prerequisite knowledge, competency skills, and professional behaviors to work independently. For this reason, the PTA is required to have completed a rigorous program, approved by The Commission on Accreditation in Physical Therapy Education (CAPTE), such as the program offered at the College of Central Florida.
Typical Physical Therapy Interventions
The PTA scope of care requires rigorous education in many treatment interventions and procedures to meet the goals established in the physical therapist's plan of care, to safely deliver hands-on skilled services, to monitor therapeutic interventions, and to modify treatment interventions in response to therapy services.
Therapeutic exercise is a common intervention provided by the PTA. The PTA is responsible to design and implement and exercise programs to build strength, endurance, coordination and balance. PTAs frequently use weights, pulleys, balls, foam pads, and machines during therapeutic exercise to meet the goals of therapy.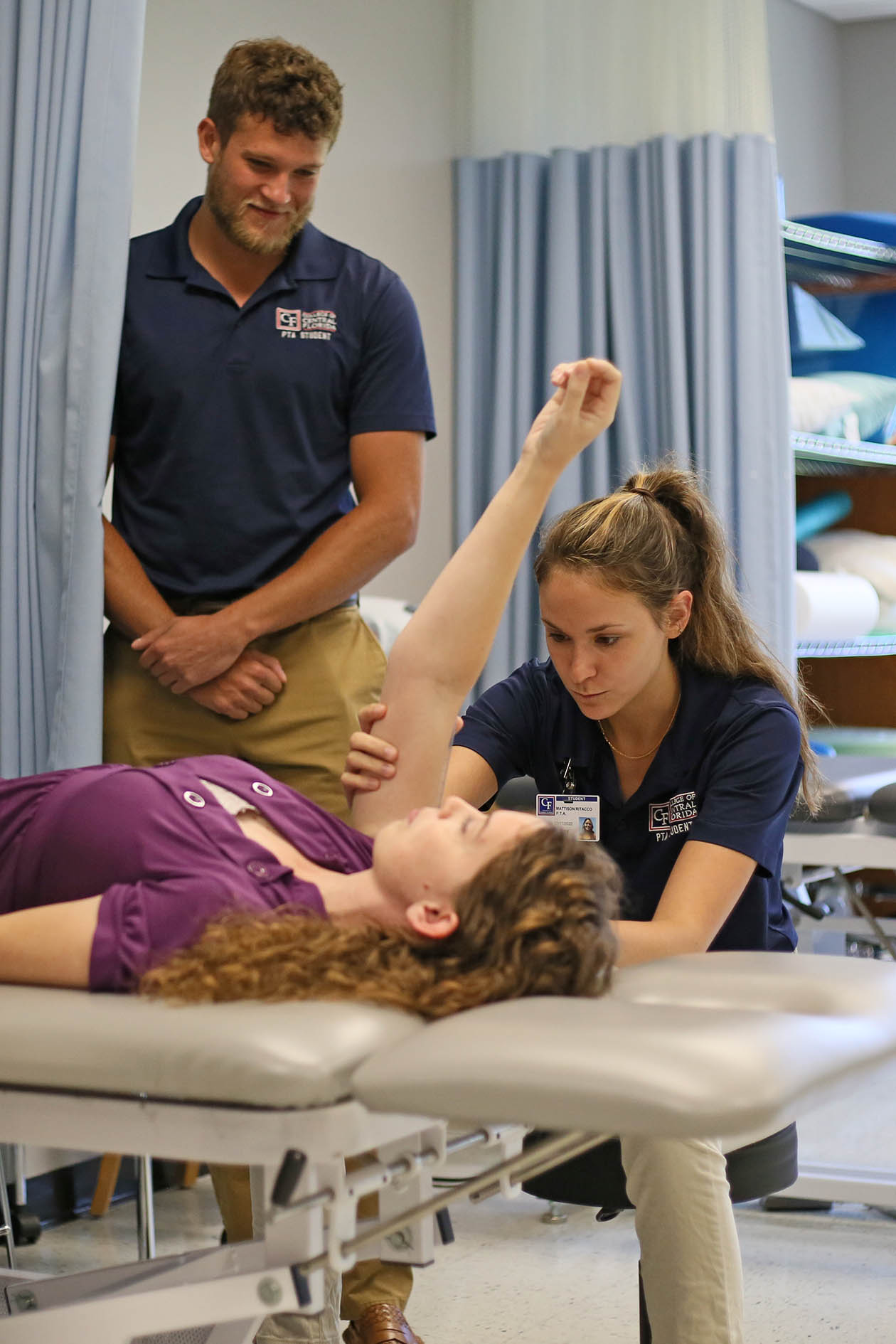 Another common treatment intervention is functional mobility training, which involves teaching clients to move from one location to another as independently and safely as possible. This may involve teaching clients how to transfer from a wheelchair, ascend or descend stairs, and or walk with an assistive device such as a walker.
The PTA must know how to use modalities such as heat or cold, ultrasound, electrical stimulation, traction, intermittent pneumatic compression, and electromagnetic therapies in conjunction with exercise. These modalities are designed to be used to reduce pain and restore function by assisting in the healing process as the client moves from the acute phase of healing to the final stages of healing from an injury or disorder.
PTAs must also have the manual therapy skills to assist the client return to maximal function following soft tissue injuries. This may include massage, joint mobilization, special positioning and stretching techniques designed to reduce pain and restore muscle and nerve function.
Patient Education
PTAs will spend much of their time educating patients and or families to ensure safe and effective interventions and to maximize the healing process and independent function. Therefore, PTAs must learn a great deal about the human body and how it works so they can explain treatments to the patient/client. In addition to the above interventions, PTAs learn about muscles, bones, ligaments, nerves, and pathology in great detail. PTAs issue home instruction and exercise programs so patients continue to work towards their treatment goals and maximal level of independence.
Finally, the PTA is required to demonstrate good writing skills to document care they provided during a treatment intervention. Employers, other health care team members, and insurance providers require high standards for accurate documentation that include detailed objective data collection to demonstrate effective therapy services through improved outcomes of therapy.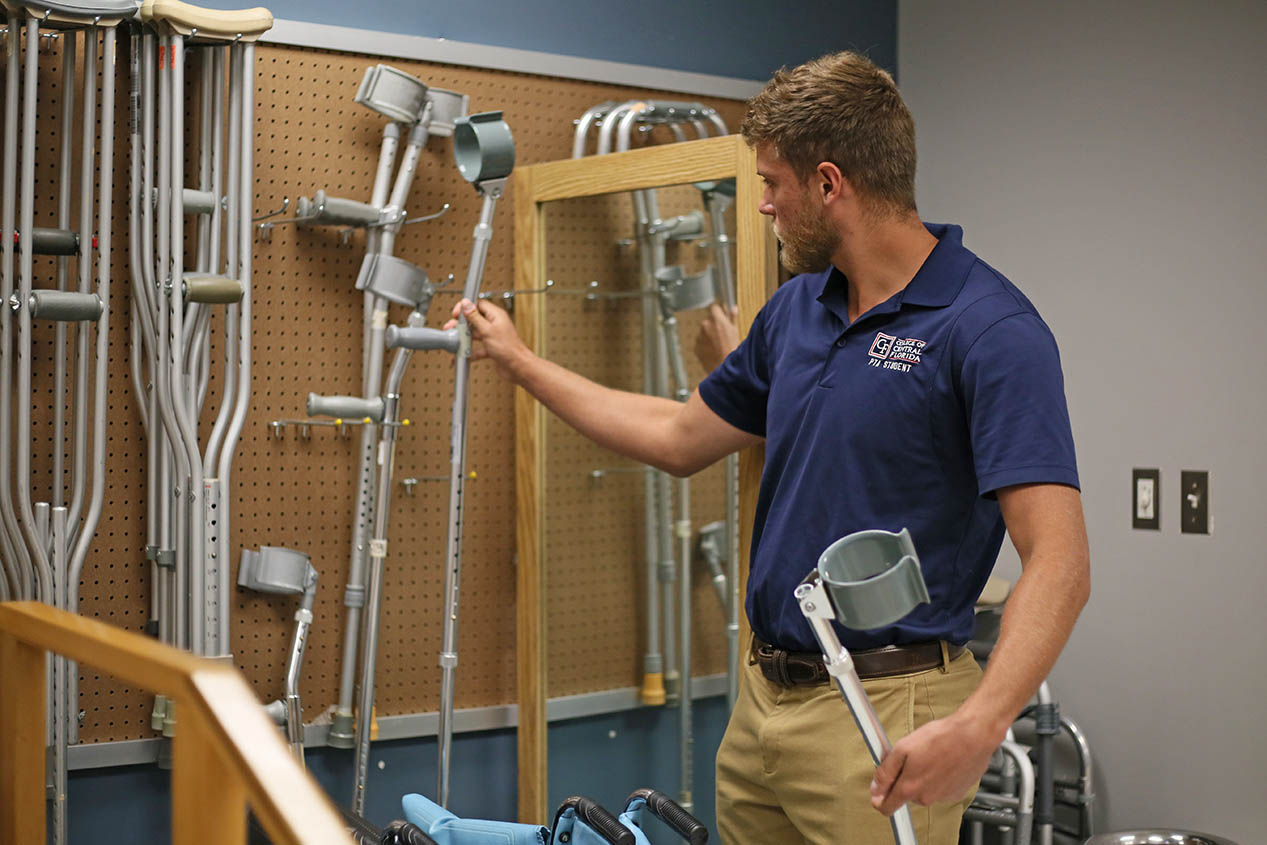 The physical therapy profession is a rewarding and satisfying career where PTAs can help people achieve their physical goals and maximize their independence to make a difference in people's lives.
Learn More
Receive an email with details about the College of Central Florida's PTA program.
$112.92 per credit hour*